A new partnership for the Timber Trade Portal!
15.04.2021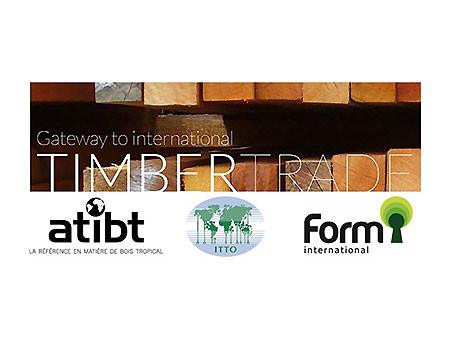 The new 2021 partnership: "Timber Trade Portal: Towards well-informed legal trade" will allow for further developments and improvements of the TTP by: 
Expanding the geographical and linguistic coverage of the current TTP website: adding six new country profiles, mainly in Asia, and translating the entire website to Chinese.
Re-designing the website to modernise the design and improve its user-friendliness.
Increasing the website's publicity and audience through a new market strategy and its promotion at relevant events this year.
The project will be funded by ITTO, one of the funding partners supporting the TTP in 2015, and will be implemented by ATIBT (owner of the website) and Form International (project manager) in close collaboration with the ITTO Secretariat.
ATIBT, Form International and ITTO are delighted to start with this new project, with a view to strengthening the synergies in their common approach to sustainable forest management and the promotion of trade in legal and sustainable timber and forest products.  
History of the TTP:
The TTP was first developed in 2015 by the European Timber Trade Federation (ETTF) and supported by ITTO and IDH's European Sustainable Tropical Timber Coalition (STTC). In 2017, ETTF and ATIBT joined forces to merge their respective timber legality websites under the current Timber Trade Portal (www.timbertradeportal.com). The TTP is a unique platform with well-summarized and in-depth information on the timber legality frameworks of 23 countries relevant in international timber trade.
In 2019 and 2020, the website was maintained and updated by ATIBT through a technical assistance agreement with Form International. This led to a review and update of all the country profiles and the translation of the website into French last year. Until September 2020, the ATIBT and Form International benefited from funding of the Fonds Français pour l'Environnement (FFEM), as part of a major project implemented by the ATIBT since 2013.
Welcome back ITTO:
The International Tropical Timber Organization (ITTO) is an intergovernmental organization promoting the sustainable management and conservation of tropical forests and the expansion and diversification of international trade in tropical timber from sustainably managed and legally harvested forests.
This new phase for the TTP is relevant to ITTO's Programme on Legal and Sustainable Supply Chains (LSSC) for Tropical Wood and Forest Products. As part of this programme, ITTO is partnering with the Global Green Supply Chain (GGSC) initiative, launched in Beijing in June 2018 with ITTO's support, to create a joined platform with a view to promoting business information exchange on trade in legal and sustainable timber and forest products. Under the GGSC initiative, a group of progressive Chinese wood trading and processing enterprises (representing >15% of China's imports) already committed to increase their sustainable wood sourcing. The translation of the Timber Trade Portal website into Chinese will greatly contribute to these efforts by providing information on timber legality and sustainability.