EUTR Newsletter - ClientEarth
22.09.2021
ClientEarth is an environmental organisation that uses the power of the law to protect the planet's resources and people. The organisation is actively involved in forest protection and seeks to develop stronger laws and policies to halt deforestation caused by illegal timber trade, protect wildlife and to secure the rights of forest communities. ClientEarth does so by working with partnerships across borders, systems and sectors in over 50 countries.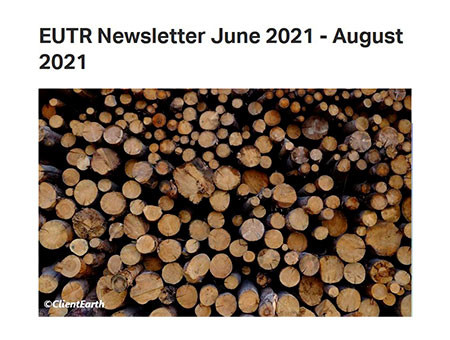 The ClientEarth' Climate & Forests team seeks to contribute to a reduction of illegal logging and more equitable and sustainable use, ownership and management of forests.
One of ClientEarth's tools is their EUTR Newsletter which provides an update on the operation of the EU's illegal logging law, the European Union Timber Regulation (EUTR) on a quarterly basis. The Newsletter informs on the actions taken by the European Commission and EU Member States to ensure proper implementation of the EUTR and provides an update on similar international regulations. Since March 2021, the Newsletter also includes a section in which ClientEarth provides a brief legal analysis of an important EUTR-related issue.
This year, ClientEarth has published three newsletters:
In its most recent (September 2021) issue, ClientEarth published several news items, which included illegal Azobe wood seized in Belgium, and an EU-wide overview of information submitted by the Member States with regard to the application of the EUTR in 2020. The newletter also posted new research, events and an upcoming webinar, and included an analysis on EUTR penalties and what makes them effective, proportionate and dissuasive.
Other major news items of this year included:
Another tool of ClientEarth is its country fact sheets, which contain relevant news items on the country in question, a legal database and studies conducted by ClientEarth or national CSOs in those countries. Côte d'Ivoire, Republic of Congo, Gabon, Liberia, Ghana, China, Poland, United Kingdom, United States
You can also find all their documentation in the database on their website: Library