苏里南的木材生产控制得到改善
18.06.2020
The Sustainable Forestry Information System Suriname (SFISS) is part of the National Forest Monitoring System (NFMS) and will replace the present log tracking system (LogPro), aiming to improve both the efficiency and transparency of  monitoring  timber harvesting and trade. The transition started mid-2019 and is still in progress. SFISS finally aims to ensure the legality of timber harvesting and trade.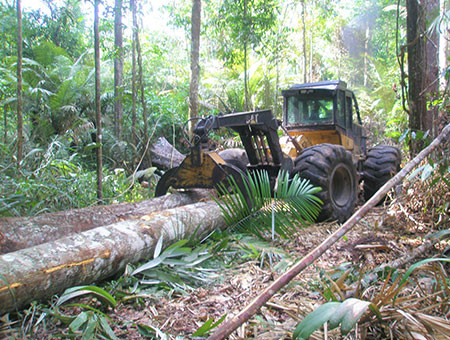 Twenty years after its first introduction in 2000, the LogPro timber tracking system is now being replaced by its successor SFISS, the Sustainable Forest management Information System Suriname. Significant growth of timber production over recent years - since 2015 quadrupled to over 1.0 million m3 in 2018 - combined with limited capacity for field inspections on the one hand, and a growing demand on traceability and proof of legality of timber (and timber products) on the other, are the main reasons for replacing LogPro by SFISS.
Contrary to LogPro, in which data and information could only be entered by the Suriname Forest Service (SBB), SFISS is a fully web-based information system to which registered forest companies have free access for uploading all required data and information regarding their (planned) logging operations, actual log production, transport and trade. Once logged into the system, they also have access to historical data on their forest holding, regardless the forest management regime and timber harvesting permits. Thus significantly improving transparency of forestry planning and logging operations, production and traceability, and the efficiency of production control and monitoring by SBB.
Since mid-2019 all timber harvesting operations are approved and monitored under the SFISS, thus gradually replacing LogPro. SBB offered extensive support to companies on working with SFISS, meanwhile also transferring historical data from LogPro to SFISS. The whole transition is expected to be completed within the coming months, aiming at phasing out LogPro by September 2020.
Together with the introduction of SFISS, all timber harvesting is based on intensive management procedures now, no harvesting permits based on (less strict) extensive management are issued anymore.
For further information on SFISS see: https://sbbsur.com/sfiss/